Our little ones really enjoyed learning all about the Chinese New Year!
We had a range of home learning activities. I loved hearing our little ones say hello in Chinese; see them form some Chinese Mandarin numbers; enjoy taking part in Chinese dragon and lion dancing and see some fantastic…
Category: Nursery
It has been great exploring our feelings and finding new ways to look after ourselves.
We LOVED 'dress to express' day
Category: Nursery
Our little ones thoroughly enjoyed all of our 'Leaf Man' home learning activities. What a great story it is!
Category: Nursery
We loved a range of home learning activities involving our story 'Not a Stick!'

Category: Nursery
Mrs Bentham is LOVING all of the amazing home learning the children are joining in with. You are all super stars and I am one proud teacher
Category: Nursery
A fantastic last week in Pre-School. Lots of festive fun!
Category: Nursery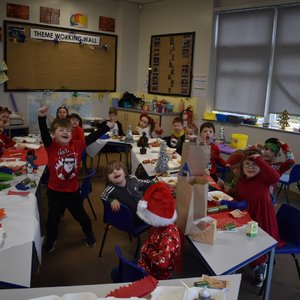 Year 2 loved coming into school in their Christmas jumpers and really enjoyed their Christmas lunch and party in class.
On our last day we got to dress up as elves again and could finally hand out our Christmas cards.
How did we get into the snow globe?
Category: Class of 2025
And that's a wrap! Year 4 have #enjoyed the fun up to Christmas. With party games, hot chocolate and movie mornings, we are all ready for the Christmas break!
Category: Class of 2023
Year 2 have had a great week with lots of Christmas fun and activities.
Year 2 were busy little elves as they worked on their Christmas cards and made sock snowmen! They were so proud of how they turned out!
They have enjoyed lots of Christmas activities in class. Santa's elves game was…
Category: Class of 2025
We've had great fun getting ready for Christmas over the past week or so! Have a look through our pictures which include
- Christmas card making
- Hope for Peace in 2021 pictures
- Snow globe decorations
- Watching the Mission Impossible virtual nativity and christingle
- Paper…
Category: Class of 2024
Year 5 have been learning all about architecture today. We looked at modern homes and from this, designed our own! #enjoy #embrace
Category: Class of 2022
Year enjoyed their hour of code this afternoon! #enjoy
Category: Class of 2022